MVC Mobile VideoCommunication GmbH
360° Customer Service - Everything at a glance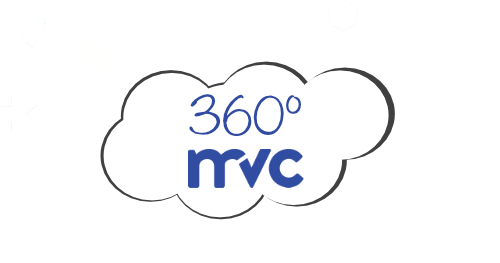 360° Customer Service
We offer our customers a full overview to their services. Thanks to new design, infrastructure and know-how, we have increased performance by over 1600%.
Of course, all of your data has been migrated. You can start directly. We are always happy to hear your feedback.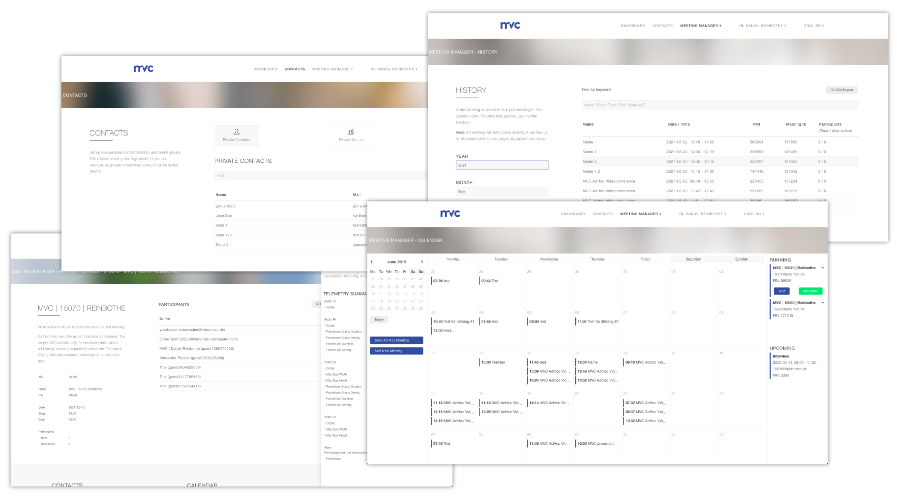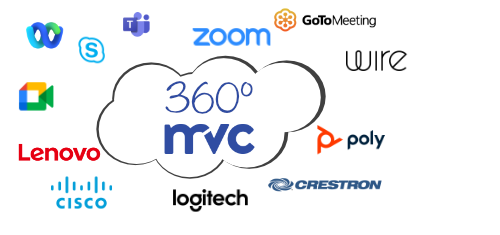 We connect all meeting solutions
What do you think about the possibility to schedule a meeting with your colleagues, customers, partners, ... at any time, from any place and with any device? ... at any time, from any place and with any device? And in your own meeting room.
Whether you book an ad-hoc virtual meeting room for audio and video conferencing, manage your already booked meetings or create your virtual personal meeting room. MVC 360° helps you communicate efficiently.
Participating in meetings is easy - for everyone. Whether via browser, video conferencing endpoint, phone, or meeting apps.
Simple and quick start
- One tool
- Intuitive user interface
- Meeting with booking
- Meeting without booking
- Meeting now

Efficient collaboration
- Collaboration
- Content sharing
- High interoperability
- Connection of different end devices and manufacturers

Meeting moderation
- Live view of active participants
- Control video & audio of participants and the room
- Sending invitations directly from Outlook 365

The latest features
- No loading times
- Contacts and groupings
- Clear calendar
- CSV export of past meetings
- Microsoft Outlook 365 Add-In

Meeting Manager at a glance
Use our secure virtual video platform, hosted in ISO-certified data centres in Germany and Switzerland. Whether booking an ad-hoc virtual conference room for audio and video conferences, administering your already booked conferences or managing your virtual personal conference rooms. MVC 360° VMR supports you to communicate efficiently.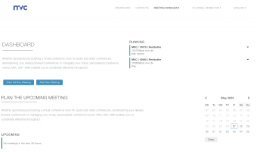 Dashboard
Keep an complete overview of ongoing and upcoming meetings and other features.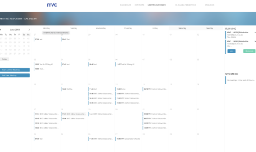 Calendar
The calendar gives you a familiar, simple environment for effective meeting planning. Quickly edit existing meetings or move them using drag and drop.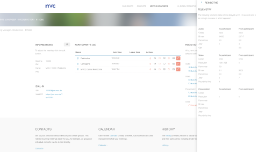 Moderation
Moderate your meetings in real time. Whether muting audio, video of all participants or already at entry. Or make one room several and move the participants in each room.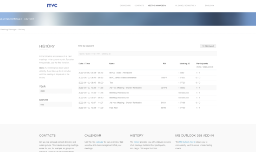 History
Filter through the meetings that have already taken place in temporary and permanent meeting rooms and view the details and events afterwards. Of course, the data is available as CSV data.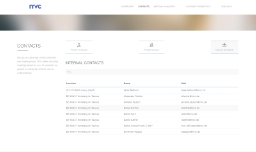 Contacts
Have an overview of your colleagues' contacts and invite them directly to your meeting. Furthermore, you can create your own contacts and create groups for recurring meetings.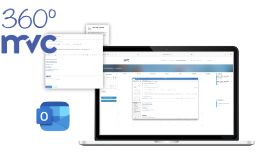 Outlook Add-In
The MS Outlook 365 add-in allows you to conveniently use the secure virtual meeting rooms. With just one click, you can add a meeting room to your Outlook meeting, where everyone can connect. Regardless of what kind of infrastructure your meeting participants have. All the information will appear in the description without overwriting your previous work.

Of course, this room can be moderated in the MVC Meeting Manager, without having to join.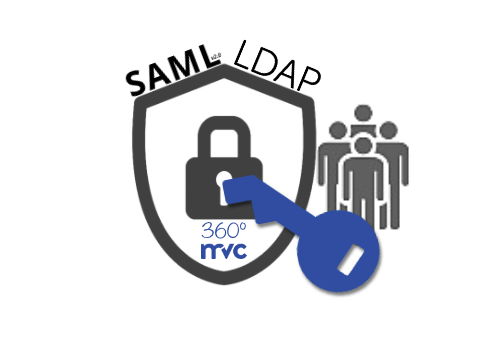 Access Management
Decide from one of the three options, for authentication of access to the internal area.
- Classic log-in with username and password.
- Link your existing LDAP infrastructure.
- Use your SAML2.0 account for authentication.
Use LDAP or SAML2.0 to keep full access control.
Coming soon
The service area for our customers is constantly being extended. The following features are on the pipeline.
Device Manager
Keep track of your entire video conferencing endpoint infrastructure. License monitoring, health, usage report, and much more...
Contract and order
Keep the overview. Your orders, their current status, contracts and components and everything that goes with them can be found clearly in MVC 360°. Find your components by invoice, your reference and many other attributes.
Safety guarantee
MVC Mobile VideoCommunication GmbH complies with the requirements of ISO/IEC 27018:2014.
To ensure the security of your data and information, we have created a comprehensive security concept. To ensure that your data does not fall into unauthorized hands, we have adapted our systems and programs to the DSGVO (Data Protection Regulation).
We already score with a TÜV certified quality and security management, the ISO certifications and the highest security standards, also for our cloud solutions. You, as our customer or even prospective customer, are very important to us and our most valuable asset is your trust!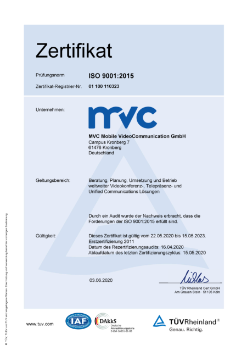 ISO 9001:2015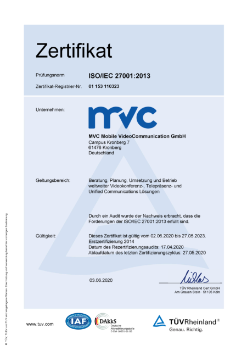 ISO/IEC 27001:2013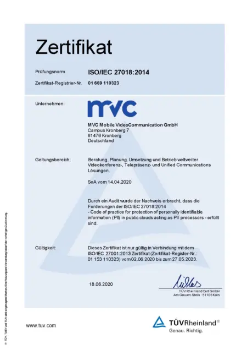 ISO/IEC 27018:2014
Documents
In the following we offer you PDF documents, which you are welcome to distribute.